The Holiday HOUSE Marta is situated directly at the Diemelsee in the beautiful Sauerland.
Enjoy your holiday with a fantastic view of the lake.
91m² living space for up to 4(+1) persons, 2 bedrooms
high quality equipped with sauna and electric fireplace
with own garden in a dreamlike location
with a view of the Diemelsee and picturesque mountains
The Holiday HOUSE Marta – Sonnenweg 9 can be booked via all known booking portals: Booking.com , FeWo-direkt.de , airbnb.de and much more.
Our tip: With our marketing partner you can always book at the best price:
For questions or bookings you can also reach us by phone: +49 5244-9044299
Looking for a gift? Order a travel voucher for the Holiday HOUSE Marta now!
Holiday in the Holiday HOUSE Marta at the Diemelsee in the Sauerland

Living & Entertainment
At the Holiday HOUSE Marta at the Diemelsee you get free WLAN – so you can share the most beautiful holiday pictures directly online or plan your trip for the next day.
In addition to a smart TV and a music system, you will also find a selection of games for young and old and a small library.
In the cold season an electric fireplace is at your disposal for cosy hours.
Bath & sauna
In the bathroom you have the choice – a cold shower after a sauna session is just as possible as an extensive, warm foam bath.
Of course there is also a hair dryer. Towels and bathrobes can be provided by us on request.
Cooking & Enjoying
The Holiday HOUSE Marta is equipped with all kinds of useful things.
In the kitchen you will find a milk frother, a freezer and a waffle iron in addition to the obvious utensils such as dishes in large numbers, pots and glasses for every occasion. A dishwasher, a filter coffee machine and a toaster are of course also available.
Sleep & Relax
In the Holiday HOUSE Marta at the Diemelsee there is room for everyone: On the upper floor there are 2 bedrooms with box spring beds available. For our youngest guests we can provide a travel bed on request and the sofa in the living room can quickly be converted into an additional sleeping place for an adult. Thus the house offers space for up to 5 people.
During the day you can enjoy the view of the Lake Diemelsee or the picturesque mountains from the terrace or balcony.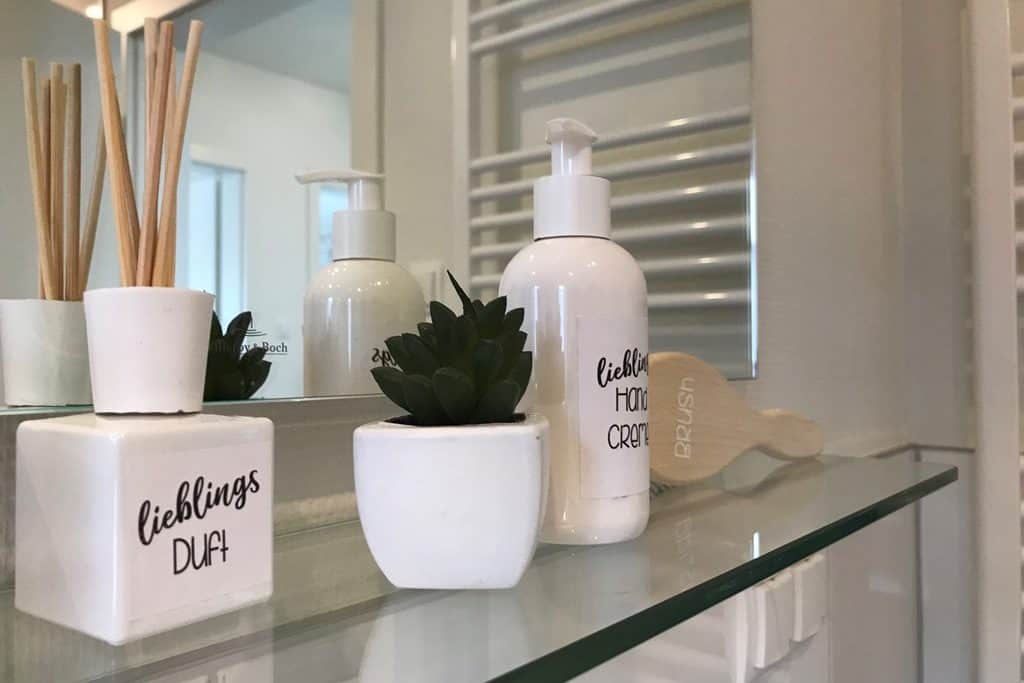 Cleaning & Cleanliness
Our property service cleans and maintains the house professionally and reliably, so that you can feel at home anytime and anywhere!
On the upper floor you will find a small utility room with a washing machine which you can use free of charge. Even during a longer stay, the luggage remains clearly arranged. A hoover and clothes drying rack are also located in the utility room.
Should something be missing, not to your satisfaction or defective, you can contact our object service.
Environment & Sustainability
So that you can also do something for the environment on holiday, you will find reusable containers in different sizes: so your snack for the hike does not need to be wrapped in foil unnecessarily. So that you can separate your waste as usual, there are various waste bins available.
The Holiday HOUSE Marta at the Diemelsee is also built according to the latest energy saving regulations and equipped with an environmentally friendly heat pump.
The windows are triple glazed and of course we only use energy-saving illuminants.
We purchase 100% natural electricity from the energy supplier EWF. EWF natural power is generated 100% from renewable energies. For every kilowatt hour consumed, a contribution is made to regional environmental protection, including the funding initiative "Kids for Nature".
Safety
Of course all rooms are equipped with smoke detectors.
We have also thought about the safety of your children: on the upper floor there is a stair grille and all sockets close to the floor are fitted with a child lock.
So that you can enjoy the evening while your offspring is already dreaming of the next day's holiday, you will also find a baby monitor in the Holiday HOUSE Marta.
Ground & Garden
The terrace and balcony are furnished with comfortable furniture – while you enjoy a cup of coffee after an extensive breakfast, the children can already romp around in the garden. In the evening you can end the beach day in peace on the balcony and enjoy the sunset.
A car parking space is available on the property – on arrival and departure your luggage is quickly stowed away and in between your car is immediately ready for a day trip, for example to neighbouring Willingen. Short legs, short distances? That doesn't have to be the case – you are welcome to use our handcart for children, provisions and swimwear!
Floor plan
The floor plan gives you a first impression of the Holiday HOUSE Marta at the Diemelsee – so you can imagine the spatial conditions exactly.
Already booked? Here you can see what equipment we offer – and what you can remove from your packing list!
Holiday HOUSE Marta
Sonnenweg 9
34519 Heringhausen-Diemelsee (Sauerland/Germany)